Electro sensors, Wireless hazard Monitoring Electro sensors, thiết bị giám sát không dây cho môi trường khắc nghiệt, Electro sensors Việt Nam
Nhà cung cấp: Pisteco Việt Nam
Hãng sản xuất: Electro Sensors
Liên hệ tư vấn
Ms Thanh
thanh@pitesco.com
0972.636.889
hongthanh.56
HAZARDPRO™ SYSTEM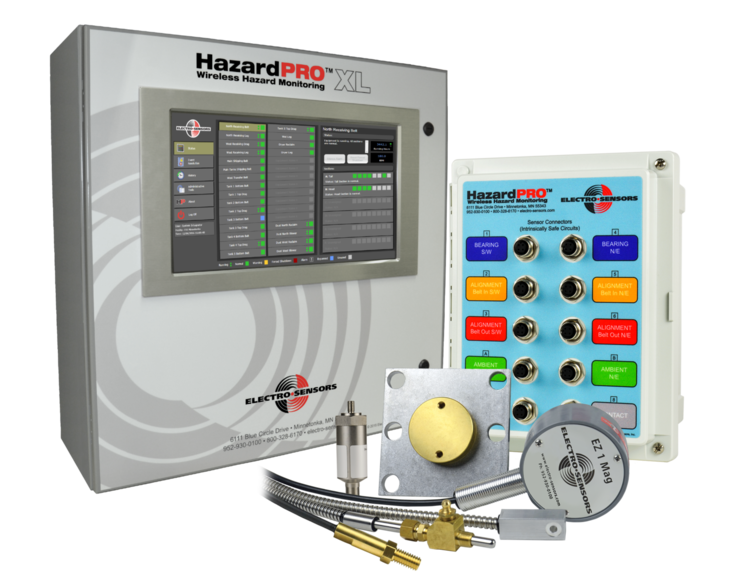 ---

Wireless Hazard Monitoring System
• Field-proven reliability
• ETL approved Class II, Div. 1 sensors, and wireless
node
• Intuitive touchscreen display
• Lowest total installed cost
• Real-time display of system data
• Battery-powered node (5+ year life)
• Quick disconnect sensors
• Built-in control relays
• Wireless communication—No Conduit
• Remote access via email, text, and web
• Continuous system self-check routines
• True multi-point ambient compensated setpoints
• User-friendly slow-down test and documentation
• Scalable—add equipment without reprogramming
• Auto-speed calibration setpoints
• Models:
XS up to 4 pieces of equipment
XM up to 16 pieces of equipment
XL up to 32 pieces of equipment
HAZARDPRO™ RPM SENSOR
HazardPRO Shaft RPM Sensor
Features
• Direct connection to HazardPRO node
• Fixed cable with M12 connector included
• 2-wire (current loop type)
• Installs using EZ 1 Mag bracket assembly
• Optional mounting magnet
• Optional stainless steel jacketed cable
• Class II, Div 1, Groups E, F, G, Class III, Div 1
The shaft RPM sensor is typically mounted to the tail shaft of the machine being monitored. The sensor is mounted in the EZ 1 Mag mounting bracket assembly, which attaches to the tail shaft with a 1/2"-13 UNC tapped hole.
HAZARDPRO™ BEARING SENSOR
HazardPRO Bearing Temperature Sensor
Features
• Direct connection to HazardPRO node
• Fixed cable with M12 connector included
• 2-wire (current loop type)
• Installs in bearing zerk or thermowell
• Probe lengths available 2", 4", 6", 10"
• Optional stainless steel jacketed cable
• Class II, Div 1, Groups E, F, G, Class III, Div 1
1/4" stainless steel probe is used with bearings, thermowells, and compression fitting mounts on tanks and piping. Available with or without compression fitting adapters.
HAZARDPRO™ VIBRATION SENSOR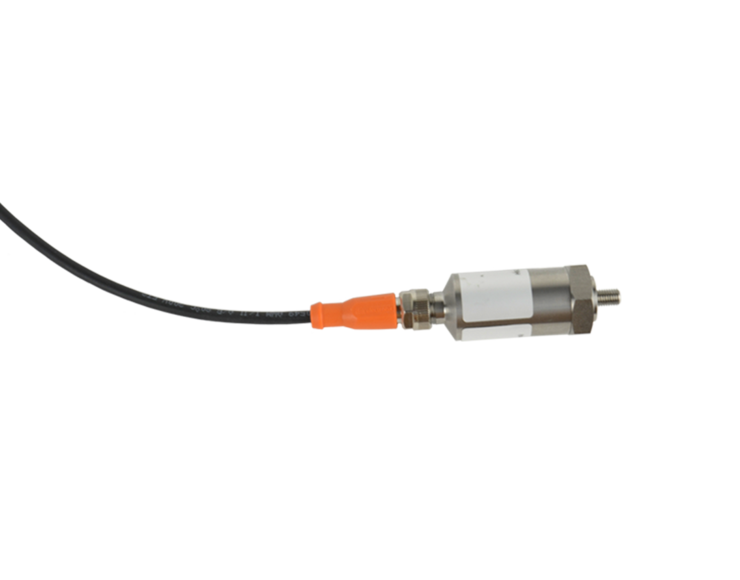 HazardPRO Vibration Velocity Sensor
Features
Protects equipment against unwanted vibration
Measures in RMS (per ISO 10816)
NEMA 4X enclosure
1/4-28 UNF 2A threaded mount
M12 connector
The HazardPRO vibration sensor or VTHP is an accurate RMS vibration velocity sensor that measures and checks for unwanted equipment vibration. If a piece of equipment is vibrating outside of its normal setpoint range a critical failure could be imminent. This vibration sensor or VTHP acts as a preventive maintenance measure while communicating live sensor data directly to a HazardPRO System Manager or plant control system. The robust sensor comes with a stainless steel NEMA 4X enclosure, 1/4-28 mounting stud, and an M12 connector.